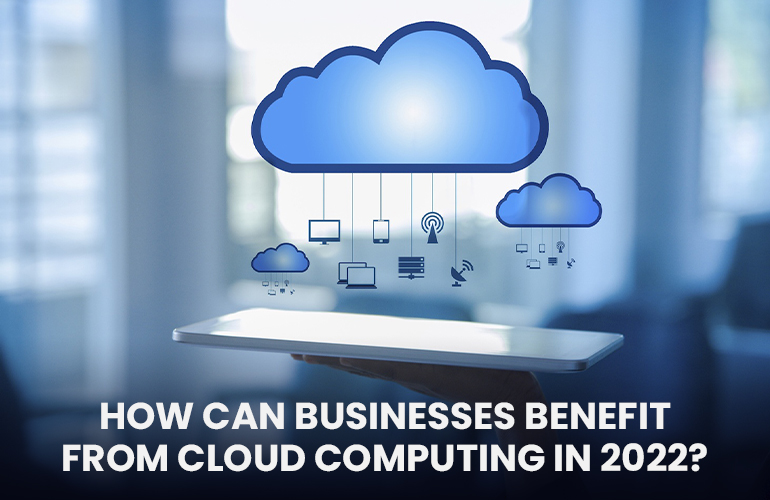 How Can Businesses Benefit From Cloud Computing in 2022?
For company owners, a new year may usher in a new era of innovation by using the potential of the quickly evolving technology. Cloud Services is one of the sectors that might significantly influence enterprises.
In its most basic form, Cloud Services are a subset of cloud computing that focuses on delivering services to consumers using the storage and processing capacity of an off-site server, referred to as the Cloud.
The most significant benefit of this technology to business owners, particularly those who manage smaller enterprises, is the capacity to scale up and down as needed. This is accomplished by reducing dependency on physical hardware, which saves money and space.
The advancement of technology has also assisted start-ups by developing their product or service and distributing it to clients on a small scale while generating income.
The benefits of this cloud technology can be shown as follows: –
Scalability:

Cloud computing is scalable because you don't have to buy new gear every time you need extra storage or computational power. To obtain additional resources, contact your cloud provider and request additional bandwidth.

This allows you to swiftly add extra resources to keep your business running during moments of high demand. You can't have the same scalability with an on-site data center since you have to buy new resources every time you need extra memory or hardware.

As a result, most businesses with on-site data centres wind up acquiring more computer resources to prepare for peak periods such as Black Friday.

Because on-site infrastructure is limited in terms of flexibility, the cloud is an appealing option for many businesses that wish to maintain performance at all times without having to maintain surplus computer resources that aren't used most of the time.
Cost efficiency:

One of the most compelling reasons organisations migrate to the cloud is to save money. Because cloud service providers offer centralised IT resources on-demand on a pay-as-you-go basis, a firm does not have to acquire infrastructure upfront; the cloud is a cost-effective choice.

Because a corporation does not have to make that purchase, it also does not have to invest time and money in upkeep; instead, it may simply outsource that obligation to a cloud service provider.

The cloud provider may then be in charge of frequently upgrading hardware and ensuring that everything is working properly. It's also cost-effective because a corporation doesn't have to invest in assembling a specialised IT crew to maintain an on-site data centre.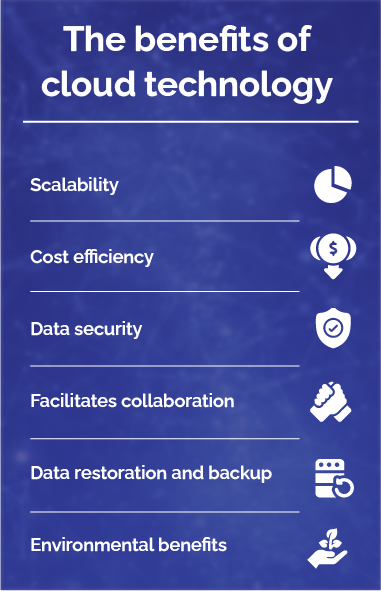 Data security:

With the advent of cyber-attacks, keeping data safe is an ongoing concern for businesses that the cloud can help with. Many cloud service providers include built-in security measures, such as role-based authentication, access control, and encryption, which may help keep your data safe.

While these restrictions can be replicated on-site, cloud service providers have access to teams of specialists that most enterprises don't have. The advantage of storing data on the cloud reduces the danger of physical access to secured resources.

Employees having physical access to equipment and data in an on-site data centre pose a substantial security risk because they can steal or destroy critical data. When you move your data outside, you ensure that it is safe from hostile internal actors.
Facilitates collaboration:

A remote team may effortlessly collaborate on projects from any device by storing data in the cloud, regardless of location. They don't have to be on a specific desktop device to open important papers with technologies like Office 365 and Google Docs; they can access and share files from anywhere and collaborate in real time.

For example, Google Docs allows several users to work on the same document simultaneously, with the ability to contribute comments and make changes in real-time.

Remote teams may operate more efficiently with this real-time contact since they don't have to transmit materials back and forth over email.

Many services also sync documents you're working on automatically so they're always up to date. This means you won't have to waste time transferring files from one device to another or travelling across the workplace to seek input on critical documents.

In other words, papers aren't tied to a certain device and are available whenever and wherever you need them.
Data restoration and backup:

Data storage on the cloud makes it simple to back up your data regularly. Many cloud services back up your data to the cloud automatically, ensuring that you always have a backup of your information in case something goes wrong.

These copies are frequently encrypted to prevent unwanted access. While you may save your data locally, it is inconvenient and insecure in many ways.

For example, if your on-site data is destroyed by a flood, fire, or natural disaster, you won't be able to retrieve your backup.

Storing your data on the cloud provides you with better security since you can access it from another device and location if there is a problem at your local site.

Many cloud service providers will also keep an eye on backups to add another degree of protection against data loss.
Environmental benefits:

Data centres have a substantial environmental effect, even though they consume very little power globally. As a result, enterprises may reduce their energy usage by hosting workloads in the cloud by not having to operate an on-site data centre.

A company can use a cloud service provider's current resource on a pay-as-you-go basis without having to power an on-site data centre and all the infrastructure it requires by outsourcing to a cloud service provider.
In other words, data centres run by cloud providers are more efficient than those run by smaller businesses. Because no new infrastructure is acquired, there is no energy spent during production, delivery, or equipment disposal. Storing computer resources in the cloud also reduces greenhouse gas emissions.
Technology allows enhancing performance, profitability, and development in your organisation. MSP Corporation could help you move over to cloud computing.
We provide businesses across Australia with customised, cost-effective operational support. We blend decades of operating knowledge with the most cutting-edge technology available today.
The approach to managed IT solutions and services guarantees that your IT is constantly in sync with your business goals. We make sure you always have the amount of assistance and coaching you need to accelerate your brilliance.
To learn more about our cloud computing services among other services, please call us on 1300-554404 or email us at sales@mspcorp.com.au.